HECHT window graphics
Passers-by may be daydreaming or texting. But your window graphics? They just can't ignore them. Go all out with large images, funky colours and remarkable messages. Lure the man or woman in the street to your brand or advertisement.   
Hecht offers car dealers, and channel or marketing managers, window graphics for store showcases that speak to the viewer. From large retail chains and car dealers to banks, pharmacies and cinemas, you name it… Born from an exceptional creative process, efficiently applied, these window graphics are ready to attract thousands of people, making them a key extension to your campaign.
The expertise of a powerhouse
At Hecht, we know window graphics through and through, and that's important, because not every TV or poster campaign translates well to your showcase. A traditional approach or radical innovation? Our experts can make the ultimate solution appear. Which solution, you ask? The one with the greatest impact, of course.
Our expertise is also far from static. Window graphics evolve and Hecht is right there with them. We even acquired Zebra, a specialised company, to keep our graphics spirit on point.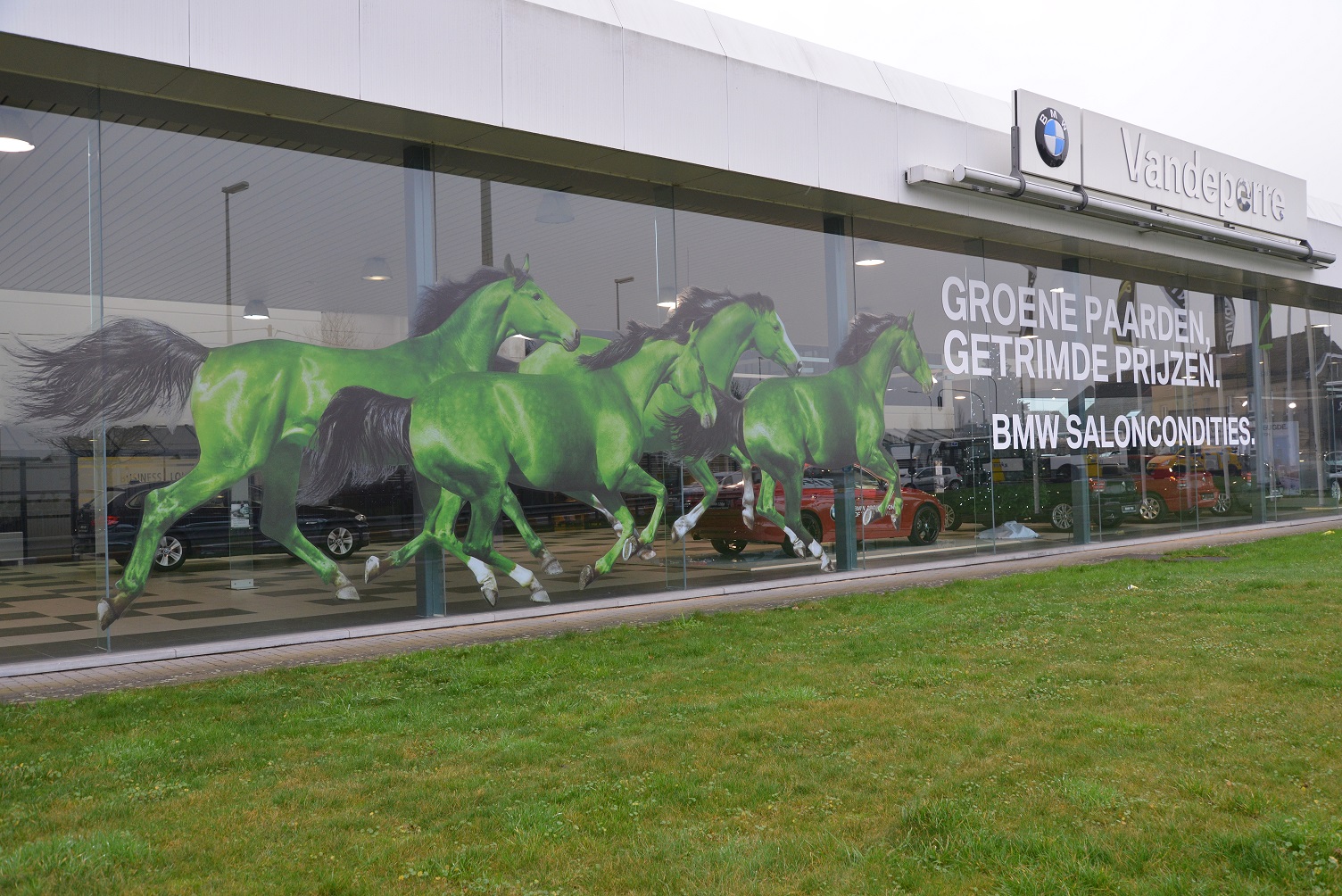 Advice from clever minds
Are you having trouble making the final decisions? Ask us for advice. Or borrow our minds to help develop your concept. We love turning clichés on their heads. Or simply, we love to grab someone's attention with images, shapes and applications you wouldn't expect. A special effect visible from the outside, but also in the actual showroom? So, why not crack open a crate of special effects?
The best of two worlds
Hecht shares your need to produce unique results. But how do you get them in line with the international guidelines that your headquarters have imposed on you? We would like to explore these creative boundaries with you. With subtle key work we often generate original, effective results suited to the specific carriers of your message.    
Spotless placement
The expert placement of your window graphics is the cherry on the cake. Only then does your concept reach its full potential. Our fitting teams have earned their accolades with large chains and at renowned events. They deliver spotless work, without folds or blisters – even with the tightest of deadlines.
Would you like to talk to an expert about window graphics?
Call us and let's discuss your ideas.
How Hecht works
A clear process will guide you towards successful window graphics:
We'll visit your location(s) for a thorough visibility study.
We'll show you our layouts.
Are you happy? We'll send you our cost estimate.
Once you've approved it, we'll start production.
Our fitting teams will let your graphics speak volumes.
You can assess the efficacy for yourself, thanks to our debriefing and photo report.